Distanca
Deri në 119 milje* rreze në një cikël të kombinuar. Zbuloni diapazonin maksimal të ri 500 Electric dhe mënyrat e drejtimit.
Bateria
Ju mund ta karikoni New 500 Electric si në shtëpi ashtu edhe në mijëra pika karikimi publike në të gjithë Mbretërinë e Bashkuar.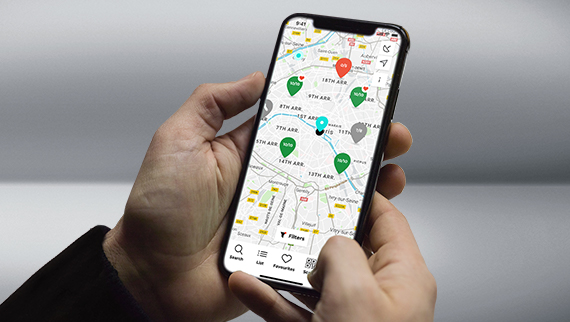 easyCharge
Ky shërbim ju lejon të kërkoni dhe përdorni stacione publike të karikimit.
Batteries
What is the Battery range*?
The new Fiat 500 comes with a 42 kWh battery, capable of up to 199 miles* under WLTP conditions.
Which kind of batteries are used?
We use a Lithium-Ion, Gen 3a; cathode NMC, anode Graphite.
Where is the battery pack placed inside the car?
It is integrated within the chassis, located below the underbody, with no impact on roominess and luggage compartment.
How long will the batteries be covered under warranty?
Customer proposal: we offer to the new Fiat 500 customer of 500 BEV a warranty of 8 years / 100k miles (warranty expiring on expiry of the first of these conditions) with a SOH of 70%.
Does the car have a heating pump?
The vehicle is equipped with a high-voltage heater; for cold weather countries the vehicle is also optionally equipped with heated front seats, which deliver immediate heating comfort, thus reducing the use of the high-voltage heater.
Cabin pre-conditioning is also available in order for the vehicle to reach a comfort temperature while plugged, before usage.
Do you have an App that shows the location of charging points?
Yes, of course: White label app integrated directly in the FIAT app will allow you to find, book and pay for your charge. There will be an available network of more than 130,000 charging points all over Europe.
Does the Navigator include the charging points? And a route with charging points?
The navigator will be able to display the charging points and it will be possible to identify the nearest charging point according to the battery consumption and the type of route.
Who is the supplier of the batteries?
The supplier of the battery is SAMSUNG.
How does SHERPA MODE work?
New 500 «la Prima» will be equipped with a Combo Plug (CCS2), including a type 2 connector that enables both Public AC charging and DC fast charging. Type 2 Plug is the most popular and widely used as it's a standard used in Europe.
Pyetje dhe përgjigjie
You might be interested in
*Këto shifra u morën pasi bateria ishte ngarkuar plotësisht. Fiat 500e La Prima i ri është një automjet elektrik me bateri që kërkon energji elektrike për karikim. Ekziston një test i ri për shifrat e konsumit të karburantit, CO2 dhe rrezes elektrike. Gama elektrike e treguar u arrit duke përdorur procedurën e re të testimit. Shifrat e paraqitura janë për qëllime krahasueshmërie. Krahasoni vetëm shifrat e rrezes elektrike me makina të tjera të testuara me të njëjtat procedura teknike. Këto shifra mund të mos pasqyrojnë rezultatet reale të drejtimit, të cilat do të varen nga një sërë faktorësh duke përfshirë ngarkimin e baterisë, aksesorët e vendosur (pas regjistrimit), ndryshimet në mot, stilet e drejtimit dhe ngarkesën e automjetit.